Reformed Celtic Church Mission Statement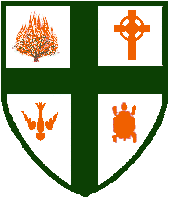 Note: The Mission statement for the R.C.C. and St. Mael's Mission are one and the same!
"The Reformed Celtic Church is a catholic, apostolic and orthodox church, living its faith in the spirit of the ancient Celtic church which flourished in Ireland, Scotland, Wales, Northumbria and other countries in the first eleven centuries of the Christian era. That faith is expressed in the Nicene Creed, the Apostles' Creed and in that of the first seven ecumenical councils of the undivided Christian church. Our mission is to proclaim the universal "Good News" of salvation through Jesus Christ's atonement for the sin of the world and administer His Sacraments from the understanding of the Celtic theologians St. Morgan of Wales and St. John Scotus Eriugena. We seek to foster the understanding that within everyone is a directly accessible spiritual light that can lead people to equality, simplicity, justice, compassion and peace.

We do this through parishes, chapels, prayer groups, and other ministries using Celtic Christian liturgies and spirituality. While many who are drawn to the Reformed Celtic Church are of Celtic heritage, we are not an "ethnic" church. We are Celtic in spirituality. Our Sacraments and services are open to all; regardless of race, national origin, ethnicity, gender, or sexual preference. Likewise, we are catholic but not Roman; orthodox but not Eastern; evangelical but not Protestant; and charismatic but not Pentecostal."





Please help us get rid of these flashing advertisements (as seen below)by donating $10 US