About the Pastor


Fr. Abbot Kenneth L. Hasty was Born in San Antonio Texas in 1968 and views himself much of a Texan still to this day. He spent 4 years in the Army's 82nd Airborne Division 1/504th Parachute Infantry Regiment and was discharged honorably - eager to get on with civilian life. He is Married to a Roman Catholic Woman and currently has 5 children.

Immediately following the military service, Father Kenneth used his G.I. Bill and attended New Mexico State University where he almost earned a Bachelor's in Business Management. He Minored in Metallurgy. Unfortunately his GI Bill ran out before he was done with school. Today he is a student at Forsyth Tech in Winston-Salem North Carolina, studying Paralegal Technologies.

Father Keneth has always been an artist, finding himself able to play nearly any wind or brass instrument he picks up in his hands, he enjoys very much blowing blues harp and used to play bagpipes before Carpel Tunnel won out. Ironically, it was in therapy for the carpel tunnel that allowed him to discover he could sculpt, and so he has been sculpting ever since.

Father Kenneth has a passion for Rosaries and Chaplets and is soon to publish a 12 year compilation of Rosaries and Chaplets. He enjoys collecting them, and making them, and now that he has both plastic and metal casting facilities he intends to make not only Rosary and Chaplet hardware, but he plans to make Saints Medallions for the Celtic Saints that did NOT get medallions.

Father Kenneth is currently unemployed. He creates electronic dance music suitable for Christian nightclubs and he enjoys spending time with his children, praying, studying, and of course, making things with his hands. He also loves nature, animals and all of God's wonderful creations except spiders which he apparently has had some very poor experiences with.

He served as a monk in the Order of the Peregrini Christi - an order within the now defunct Anamchara Celtic Christian Church prior to founding the Order of the Servants of Solemnity. He is much happier to be back amongst Celts again and is eager to learn and grow even more. He was ordained by Archbishop Gregory Godsey on March, 14th 2010 at St. Peter's Free Catholic Church. Fr. Kenneth currently serves as Abbot of the order of the Servants of Solemnity, and the pastor of St. Mael's Reformed Celtic Church.




Fr. Abbot Kenneth L. Hasty, S.O.S.

Abbot; Servants of Solemnity, Priest and Pastor of St. Mael's Reformed Celtic Church




Please Note the Cell Phone Number listed on the card below has been changed to (336) 469-9854 Text is available at this number as well! It is best to try the cell phone number first.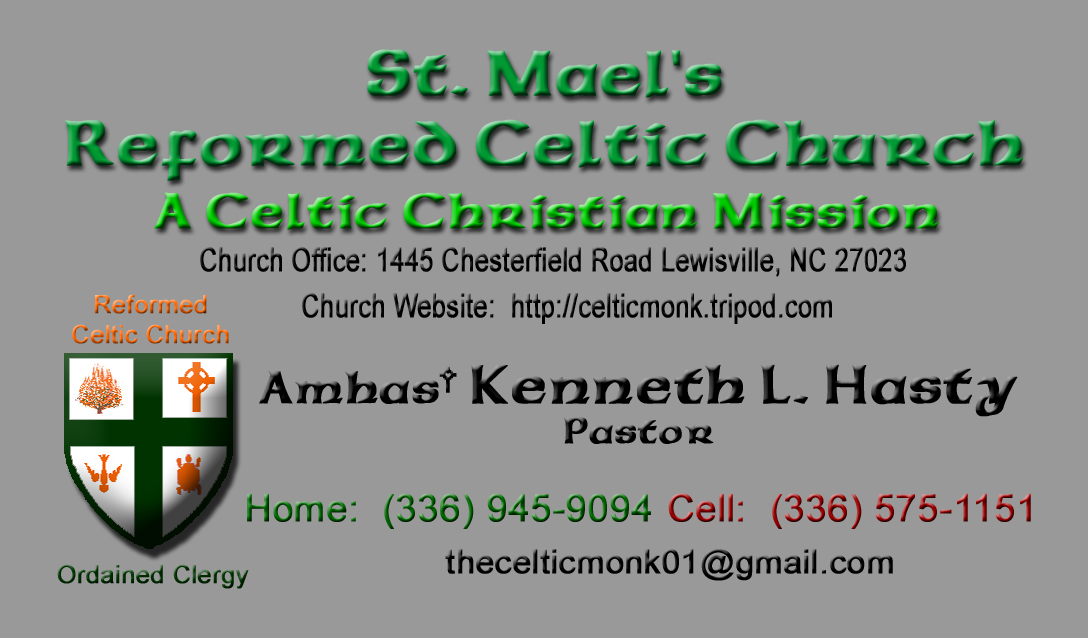 Please help us get rid of these flashing advertisements (as seen below)by donating $10 US